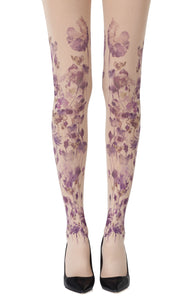 Product design

Add a spring to your step in the Garden Party tights. This dreamy allover pattern will make even the greyest days seem full of colour. Colour: Powder tights with Multicolour print. Thickness: 120 denier. Your entire leg will be getting Zohara love with allover prints. Both sides are not created equal with allover tights, so please look at the foot of the tights before wearing to ensure you don't step on the print. (The front print will be lower than the back.) Unless they have X-ray vision, no one will be able to see through these opaque tights. Hand print, no two are the same.

I am made of 90% Polyamide, 10% Elastane

Look after me - I may be machine washable. Please check my care label for full instructions.