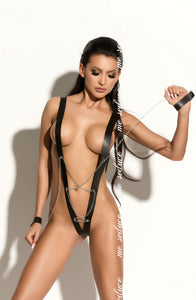 Product design

WOWCHERZ! Will somebody turn down the heat? Introducing the desirable Yanne body from the Queen of Hearts collection by Me Seduce. If you're into kinky, then this is the definition of kinky. A faux leather piece which has thin faux leather straps of material as pictured on the front, cheekily covering the nipples and follows round to the back where there is a metal hoop above the thong. Includes sexy chains criss-crossing across the body and two external chain leashes with handcuffs attached to the ends as pictured. Yanne comes packaged in her own Me Seduce box.

I am made of 95% Polyester, 5% Cotton

Look after me - I may be machine washable. Please check my care label for full instructions.