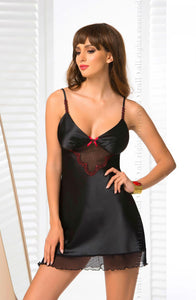 Product design

Barbara is an extremely gorgeous nightdress made from sensual Italian satin combined with fine mesh and embroidery. The cups are slightly crinkled at the bottom and between them is a lovely little satin bow with a contrasting embroidered flower. The flower is sewn with matching red thread and outlined with black thread which really makes the bow stand out. Under the cups is a panel of semi transparent mesh, with a polka dot pattern imprinted into the fabric. Edged with subtle floral embroidery, again with the red thread and outlined with black. At the start of the straps the embroidery can also be found where five flowers are embroidered onto each strap. These straps are thin and can be adjusted with adjustable sliders. Edged at the hem of the nightdress is this beautiful semi transparent mesh with the polka dots imprinted, which is crinkled at the bottom. The back of the nightdress is completely plain. Barbara comes packaged in her own Irall box with lovely matching tissue paper.



I am made of 99% Polyester, 1% Polyamide

Look after me - I am may be machine washable. Please check my care label for full instructions.
Size Guide