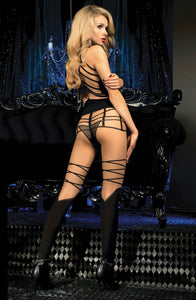 Product design

Introducing the sensational new collection by Ballerina Blue Night™ including a mixture of 16 adventurous tights and hold ups. Taken to another level, Ballerina have seductively photographed this range in a mysterious and magical environment with a beautiful chandelier seen in the background. Perfect hosiery for any occasion and if blue is your favourite colour, you're going to love this.

A very traditional pair of Ballerina tights in Nero (Black) / Skin with bold criss-cross detailing. At the top of the tights is a thick waist band with geometrical lines underneath. Criss-cross patterning can be found at mid-thigh which runs around the front and the back of the leg. Finished with a bold black pattern at the bottom of the leg with a touchy zip-style pattern on the back. The skin part of the tights is 20 denier and the bolder pattern is 60 denier. This product is presented in luxury embossed packaging with a picture insert.

I am made of 79% Polyamide, 18% Elastane, 3% Cotton

Look after me - I may be machine washable. Please check my care label for full instructions.
Size Guide